Every company needs to hire new staff to survive the competition.
Depending on the Company, some hire hundreds of employees yearly, whereas Companies like TCS should hire more than 10,000 employees this year.
Looking at a huge number, you may get confused and question why TCS hires more employees. Are they unsatisfied with the old ones? Or is their workforce too limited?
Well, there is no need to think too much because these questions will be a part of this article.
Why Is TCS Hiring More Employees?
Because they need an additional workforce.
You heard it! TCS is not an e-commerce brand that doesn't need employees, and rather it is a brand that facilitates people by delivering products.
Such a company always needs more staff, and since they are already expanding globally, they need thousands of employees every year to facilitate their users.
For your better understanding, here are five reasons TCS hires new employees.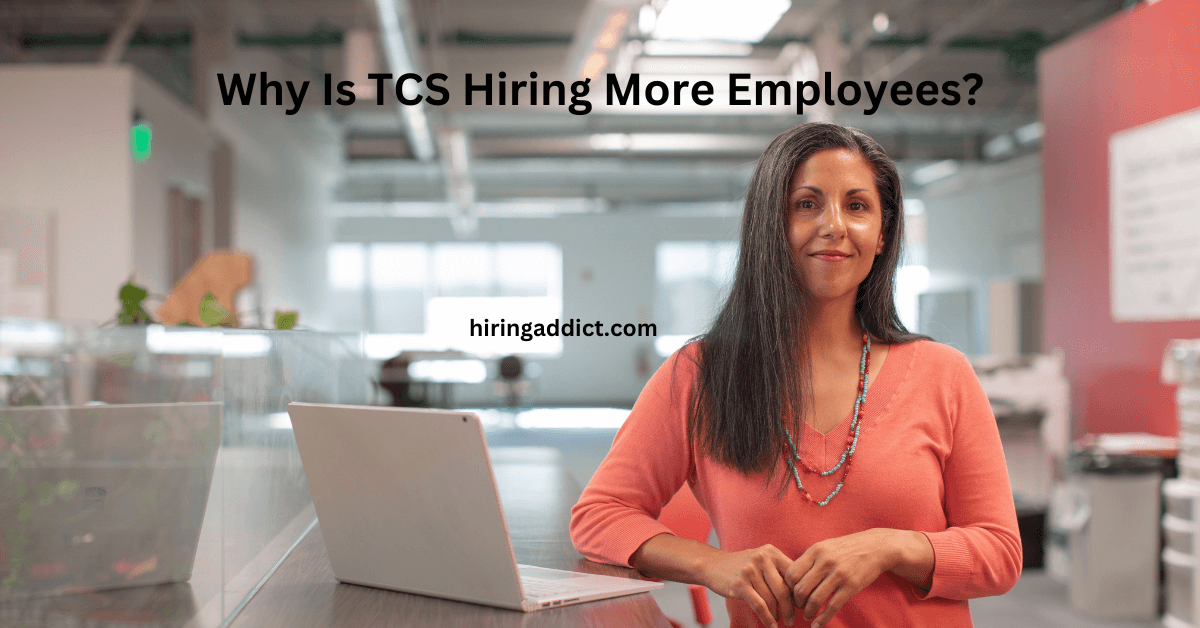 5 Reasons Why TCS Is Hiring New Employees
Cost-effective solution
Businesses like TCS, Infosys, etc., can save money in the long run by investing in training new employees rather than recruiting seasoned professionals.
However, TCS saves money by not recruiting a large number of skilled personnel, opting instead to assign new workers to work alongside veterans to gain experience on the job.
Earning CSR Points
Employing new graduates can help a company gain corporate social responsibility (CSR) points by creating jobs in the community. (In my humble view, this is the sole thing about mass recruitment I find so admirable. They've made it remarkably simple to find work after finishing University in technology.
New approaches
New hires offer a fresh perspective on old challenges, which can benefit ongoing initiatives if their managers know how to harness them. Bringing in new employees invigorates a business. Functioning in such an environment is rewarding for staff.
Since I have experience working for TCS, I can attest that many new hires are forced to participate in unwelcome, routine tasks that do not need expertise.
Talent hunt
Proactively building a pool of in-house talent has allowed them to meet the aggressive timelines set by their customers for implementing their expansion and change strategies.
Why Do Employees Want To Get Hired By TCS?
There are plenty of reasons TCS is hiring more employees. Some are due to an attractive workplace, and some want to get hired because they need a work-life balance.
The main reason employees want to get hired by TCS are:
Brand Name
IT firms have multiplied rapidly in recent years, notably in India, but only a select handful can provide their staff with stable employment. That is why most people choose to collaborate with established companies.
Having a name like yours behind your name might offer you confidence in your career choices and perhaps provide you with some peace of mind about your future employment.
Only about one-quarter of TCS workers (out of more than 4,600 respondents) believe that working for the company can help them advance in their current position.
Context of Employment
TCS's attractive workplace is one of the main reasons many people want to work there. TCS received the "Best Workplace" award from its employees around 16% of the time.
Coworkers
Coworkers are the folks you spend most of your working hours. Also, having a well-informed and cohesive staff is crucial for any project to run smoothly. About 15% of responders cite this as a primary factor for their association with TCS.
Leave policy
Among some of the top reasons why people stay with the company is because of the company's generous leave policy and laws. Only 14% of those polled thought TCS had a fair leave policy.
Is TCS A Stable Job?
Yes, if you look at their past reports, it wouldn't be wrong to say that TCS is great regarding job security.
If you are a fresh graduate from University considering joining TCS, don't delay…
How Many Employees Will TCS Hire?
As of 2023, TCS is set to add up to 12,000 freshies into its workforce.
It's a great chance for everybody looking for a new job as the positive environment, and colossal reputation of this brand will benefit your experience.
What Is The Employee Strength Of TCS?
According to sources, TCS currently has 613,974 employees who will face a significant change by the end of 2023.
If we look at the current growth rate, the number of employees is expected to increase by around 20-30,000.
However, this is just a prediction, not an exact ratio. There can be different changes depending on the economic conditions.
Conclusion
TCS is one of the most successful consulting firms in the world, and the company provides its employees with a pleasant workplace. A career with TCS would be like diving headfirst into a bottomless sea of exposure to cutting-edge methods and tools.
They may need to increase the rate and quantity of their hiring to compensate for the rising turnover. This has been a productive quarter for many reasons. The last six months have seen a record number of hires for TCS, with 43,000 recent grads joining the company.
As a result of our Shift-Left training method, they were able to accelerate their rollout significantly. Employee morale has remained strong despite these challenges because of the company's dedication to nurturing in-house talent and better connecting education with professional advancement.
FAQS
How many recent graduates does TCS hire?
While this depends on requirements and workload, Tata Consultancy Services (TCS) has a solid plan to add another 40,000 fresh graduates in 2023.
Furthermore, the corporation hired 1,03,546 individuals last year, ending in March 2022, proving why they get so many CSR points every time.
Will there be a wage increase at TCS?
Generally, for newly Hired Staff, NO!
Any company in the world takes proper time with its employees and then provides them with a salary Hike.
Similarly, if you're an employee at TCS, you would get Wage increases but with the proper time. As of February 2022, TCS has planned a 20 percent salary increase for all hard-working employees.
In addition, for FY22, 400 thousand TCS employees 600 thousand will receive entirely variable compensation.
Why is TCS best for employees?
TCS is one of the best companies you can get into, and there are dozens of reasons for that—good working environment, huge brand name, job security, good pay, and whatnot. You might not get a dream job with TCS, but it is nothing less.
A survey of over 4,600 TCS workers found that 23% believe the company's name may help them advance in their chosen profession.
How does TCS define the 25-25 model?
According to the idea, by 2025, only 25% of workers will need to be physically present in the office at any moment. Furthermore, workers won't have to spend more than 25% of their time at the office.